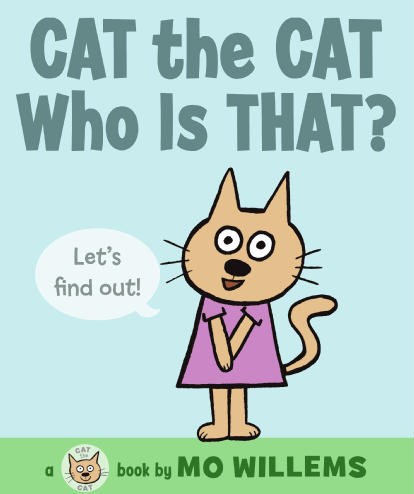 Cat the Cat, Who Is That?
Before you say "No!" to the Pigeon, say "Yes!" to Cat the Cat, star of bestselling, award-winning star Mo Willems's youngest series of funny books yet!
"These perfect read-aloud books use early learning concepts in a way that will delight young children and keep them laughing."—Julie Aigner-Clark, creator of Baby Einstein
You'll love making friends with Cat the Cat as she introduces you to her animal pals.

This is picture-book phenomenon Mo Willems at his simplest, sweetest, and funniest. With this brilliant new series, he introduces early concepts through vibrant art, very simple text, and repetition. Cat the Cat is spunky, sweet, and completely irresistible. And in signature Mo style, there is a gently funny twist at the end of each book. Parents, booksellers, and teachers will be thrilled to introduce their youngest friends to this adorable new character.
PRICE (US) $10.99
ISBN 0061728403 ,9780061728402
SIZE 9 x 7 1/2
PUB DATE 2010-02-10
FORMAT Hardcover
AGE RANGE 4-8
PAGE COUNT 32