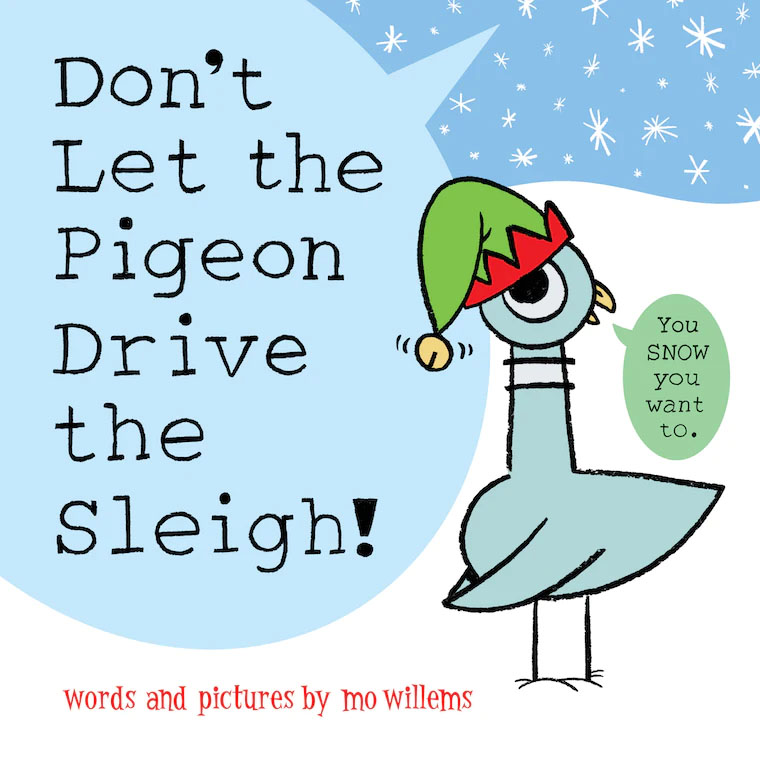 Don't Let the Pigeon Drive the Sleigh!
Coming September 2023!
It's the most wonderful time of the year—for driving a sleigh! 'Tis also the season—for driving a sleigh! Oh, and joy to the—driving a sleigh! The Pigeon has made a list and checked it once. Can his holiday dream come true? Or will The Pigeon be left out in the cold?
You'll share some HO-HO-HOs and HA-HA-HAs finding out in three-time Caldecott Honoree Mo Willems' ninth Pigeon book, Don't Let the Pigeon Drive the Sleigh!
Finally, a book you can say "no" to!
When the Bus Driver takes a break from his route, a very unlikely volunteer springs up to take his place—a pigeon! But you've never met a pigeon like this one before. As the Pigeon pleads, wheedles, and begs his way through the book, readers answer back and decide his fate.
Mo Willems' hilarious picture book was awarded a 2004 Caldecott Honor and has been inducted into the Picture Book Hall of Fame. Now, twenty years later, readers can amp up the fun in an all-new board game featuring the Pigeon! Players drive their bus pieces around town. The first player to get to the Bus Depot wins, but remember—don't let the Pigeon drive the bus!
PRICE (US) $
ISBN 9781454952770
SIZE
PUB DATE 2023-09-04
FORMAT Hardcover
AGE RANGE 3-5
PAGE COUNT